Fun Zone day at LEAP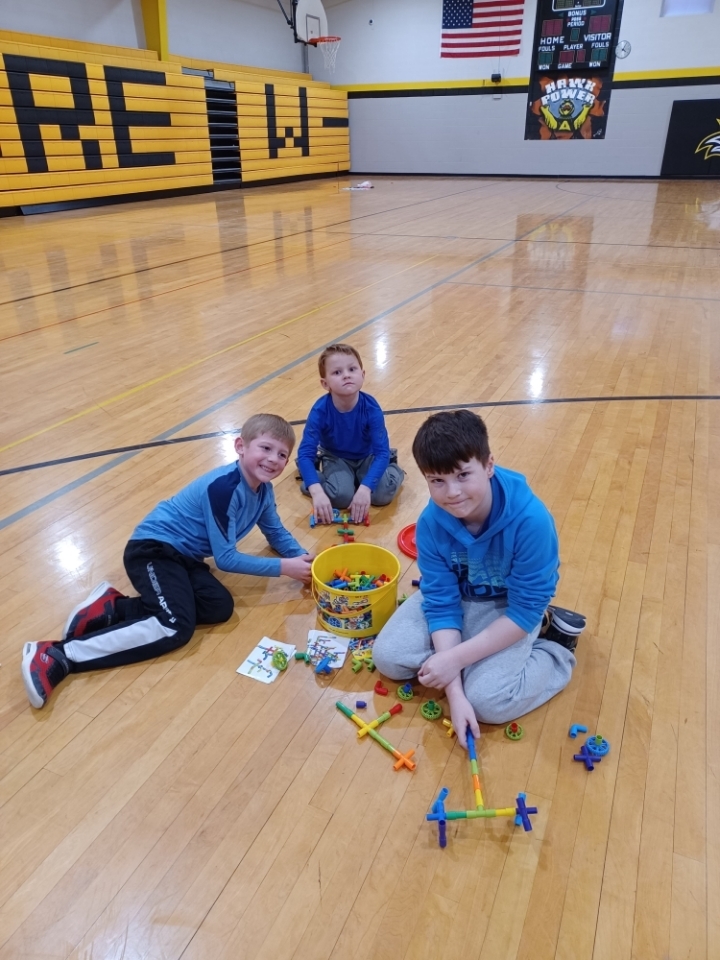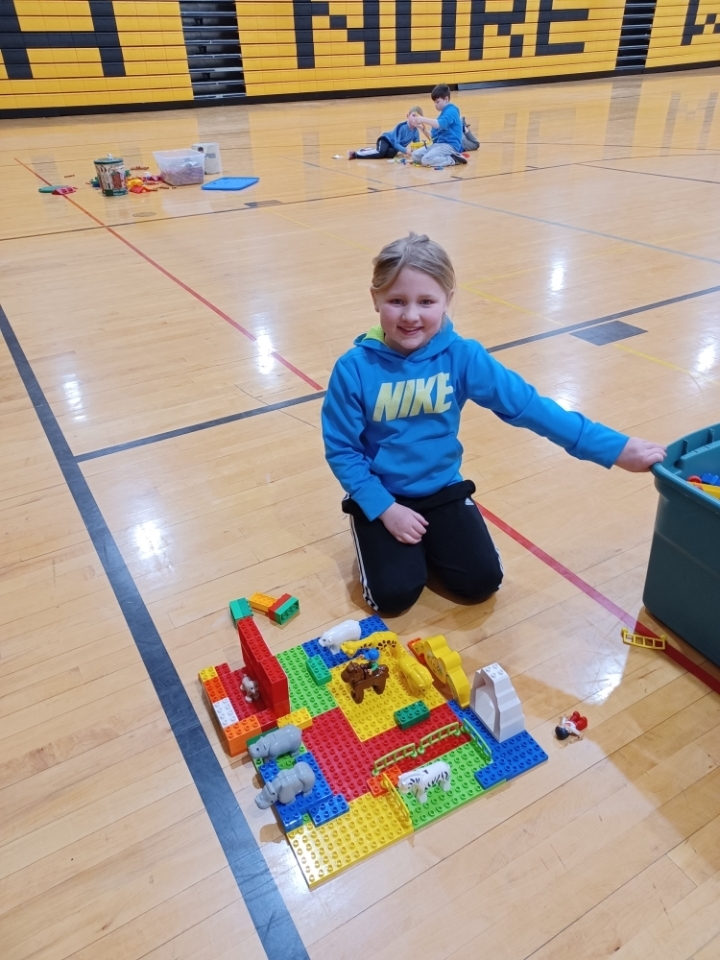 Andrew School Community, With great sadness, we are needing to inform you of the death of Missy Strodtman, our school's head cook. Missy passed away completely unexpectedly yesterday, February 19. Missy provided our students with so much more than just delicious and healthy meals. She went above and beyond every day to build relationships with our kids. She always knew just what to do to make a student smile or cheer them up if they were down. She embodied what our school is all about. Missy was loved by staff and students, alike. Missy's services will be held this Thursday, February 23 at the Shultz Funeral Home in DeWitt. The family will greet friends and relatives from 2 pm - 4:45 pm with a memorial service to follow at 5 pm. More information can be found at
https://www.schultzfuneralhomes.com/
. To allow staff, students, and families to attend the service the Andrew School will be having a 1:30 pm early dismissal this Thursday with no after school programming (LEAP) on this day. We encourage parents and families to speak to their children about Missy's death, as she was an important part of our kids' experience in school. The school will have additional counseling services and supports in place to help our students grieve through this difficult time. Please continue to send your thoughts and prayers for Missy and all of her family and loved ones. The Andrew School community will miss her dearly.


Families, please send your Little Ceasers fundraising in today with your students.
Due to the 2 hour delay today, Friday February 17th. There will be no morning LEAP.
With poor weather conditions expected to continue over night, the Andrew School will be having a two hour delay on Friday, February 17.
The Andrew School will be closed Thursday, February 16 due to the winter weather warning issued for our area. Be safe!

We wanted to remind everyone that the Little Ceasers fundraiser is due this Thursday. All funds raised will go towards our Leadership Day Event. This year we are packing meals for Kids Against Hunger and are trying to raise enough money for 5,000 meals.

Preschool Registration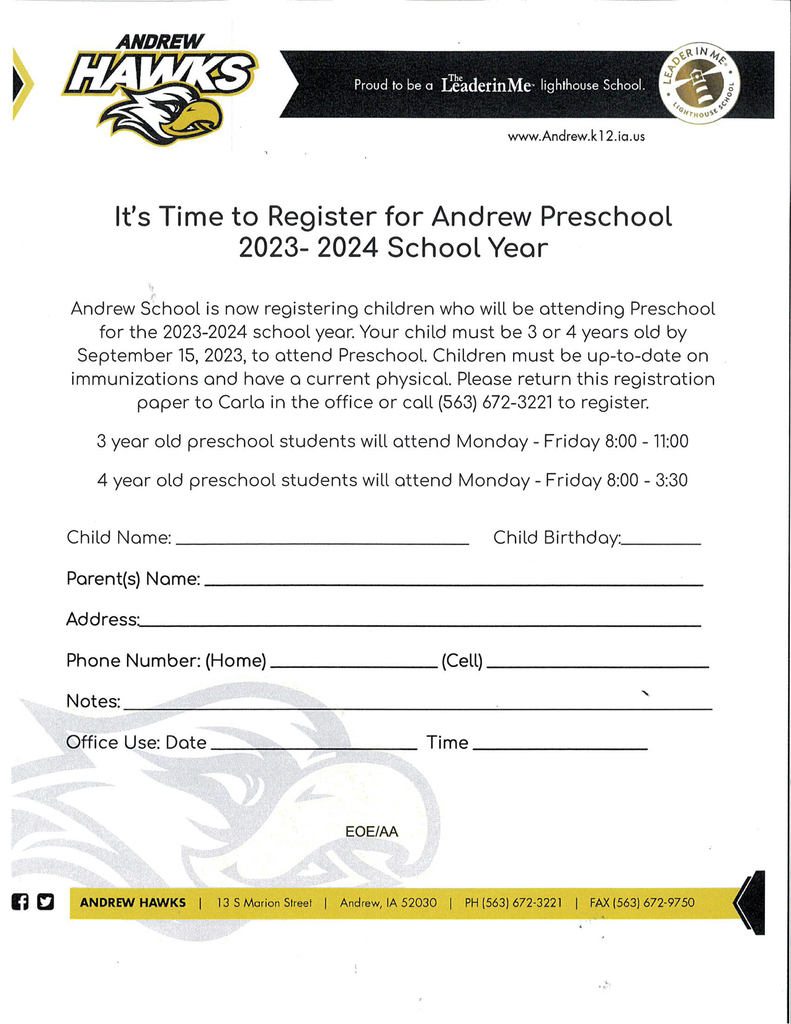 Kindergarten Round Up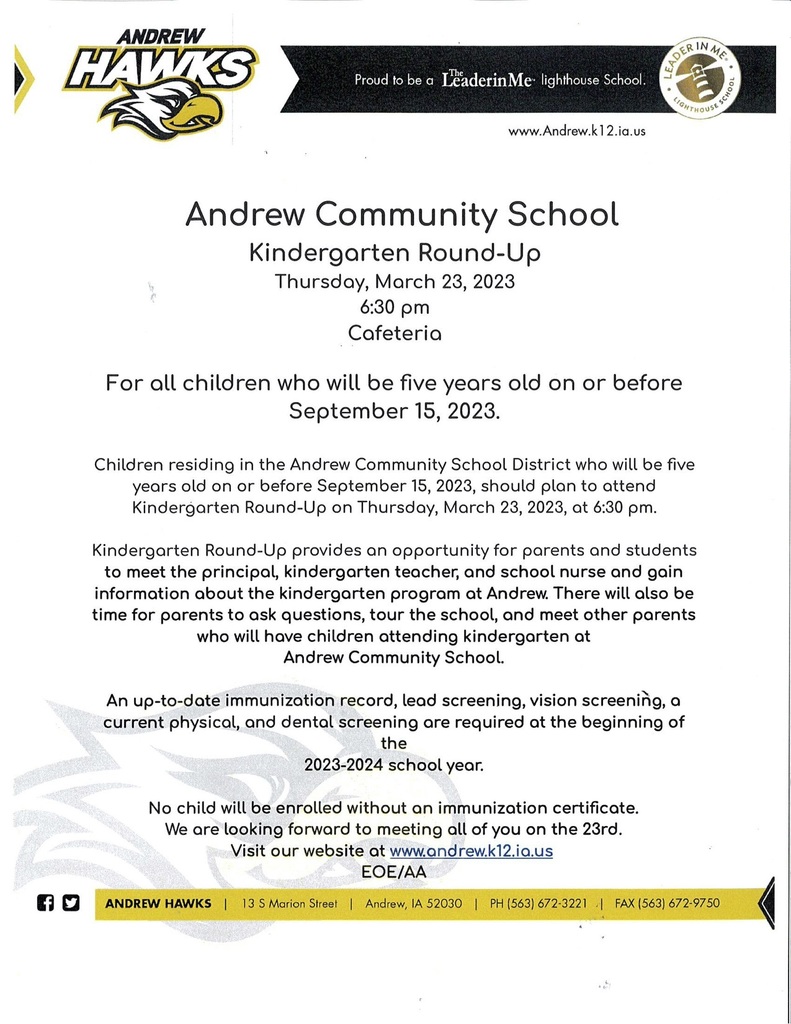 ANDREW COMMUNITY SCHOOL DISTRICT Has the following opening PARA-EDUCATOR If interested, please contact Mr. Brandon Kirchhoff at
brandon.kirchhoff@andrew.k12.ia.us
Andrew Community School District 13 S Marion St Andrew, IA 52030 EOE/AA
LEAP Ski Trip has been rescheduled for Tuesday, February 28th. We will leave school at 1:15 and planning on being back around 8:30pm.

Please join us for the 2023 Parent Lighthouse Trivia Night. This event is a fundraiser for the Andrew School and Andrew Fire Station all in one event. Attached is the flyer for this event with information and your children will be bringing a hard copy home today.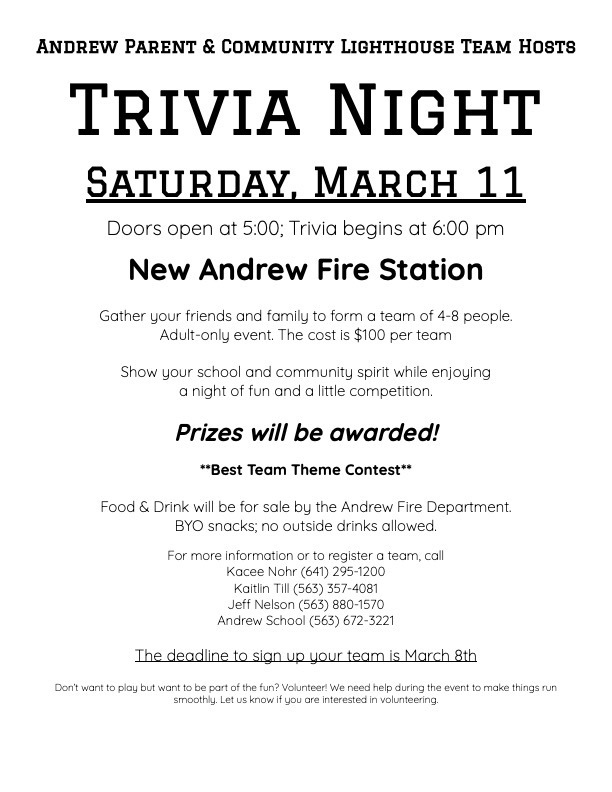 Due to the 2 hour delay today, Friday Feb 10th, there will be no morning LEAP.
The Andrew School will be having a two hour delay tomorrow, February 10, to allow time for the county to get to rural routes. Thank you.
Due to school being closed today, February 9th. The LEAP Ski Trip will be postponed. A new date will be announced as soon as it is scheduled.
Due to the winter storm warning, the Andrew School will be closed today, February 9, 2023. Thank you.

For those who are interested in the Hunter Safety classes or for more information, please contact Jen Meyer at 563.652.3783 or by email
jmeyer@jacksoncounty.iowa.gov
.
Reminder. Tomorrow, Wed Feb 8th, LEAP will be going to the YMCA swimming. Please make sure your students have swimsuits and towels. Also a bag for their wet swimsuits. Students who do not bring swimsuits will sit on the benches while the other students swim.

Thank you Andrew Parent Lighthouse for helping us celebrate the 100th day of school with a fun experience at the Voy Theater. Also a shout out to Sara Clasen and her staff for making the experience a great one!!