Reminder that there is no LEAP this Wednesday, March 8th, and Thursday, March 9th.
3rd-6th Grade Families, Your students will be coming home today with information on next week's annual ISASP testing. It will have information on your students testing dates and tips to help your student be successful. If you have any questions, please contact Mrs. Wille. Thanks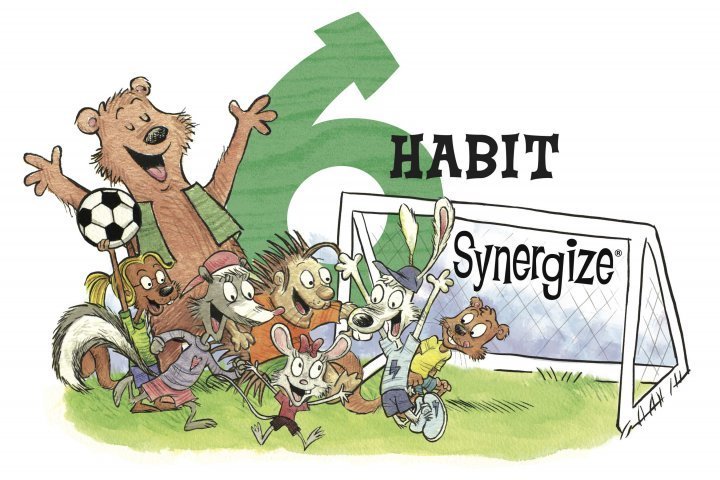 Picture Day for Andrew Community School is scheduled for Tuesday, Apr 4. This event's Order Code is 76671PF.

ANDREW COMMUNITY SCHOOL DISTRICT Has the following opening HEAD COOK If interested, please contact Mr. Brandon Kirchhoff at
brandon.kirchhoff@andrew.k12.ia.us
Andrew Community School District 13 S Marion St Andrew, IA 52030

Little Caesars will be available for pick up on Wednesday, March 8 around 12:30. Please plan to have your orders picked up before 6:00 pm on Wednesday, March 8 as we do not have freezer space to store them. Thanks again for supporting us!

The Andrew Achievers and the Andrew Clover kids will be a hosting a freewill bake sale during conferences next Wednesday. All proceeds will go to the family of our dear friend and supporter of the Jackson county 4H program Missy Strodtman.
Parents and Guardians. This is a reminder that there will be no LEAP on Wednesday, March 8th and Thursday, March 9th due to conferences.

Please join us for the 2023 Parent Lighthouse Trivia Night. This event is a fundraiser for the Andrew School and Andrew Fire Station all in one event. Attached is the flyer for this event. Please let us know if you will have a team so we can plan accordingly for food and refreshments.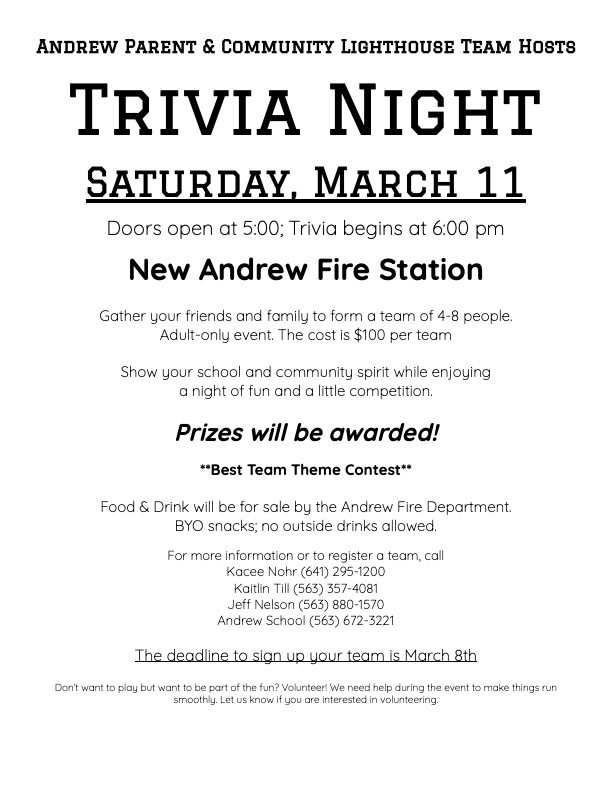 The LEAP kids at Sundown are going to be a little later than expected. They are now looking to get back to school about 9:15.
Parents and Guardians. This is a reminder that this coming Tuesday is our LEAP Ski Trip. Please make sure your students have appropriate snow gear. We will leave school around 1:15 and are planning on being back to school around 8:30.
5th and 6th grade band students, A reminder to bring your instruments for full band and lessons tomorrow!

We are celebrating Dr. Seuss Week next week. We cannot wait to enjoy these fun dress up days!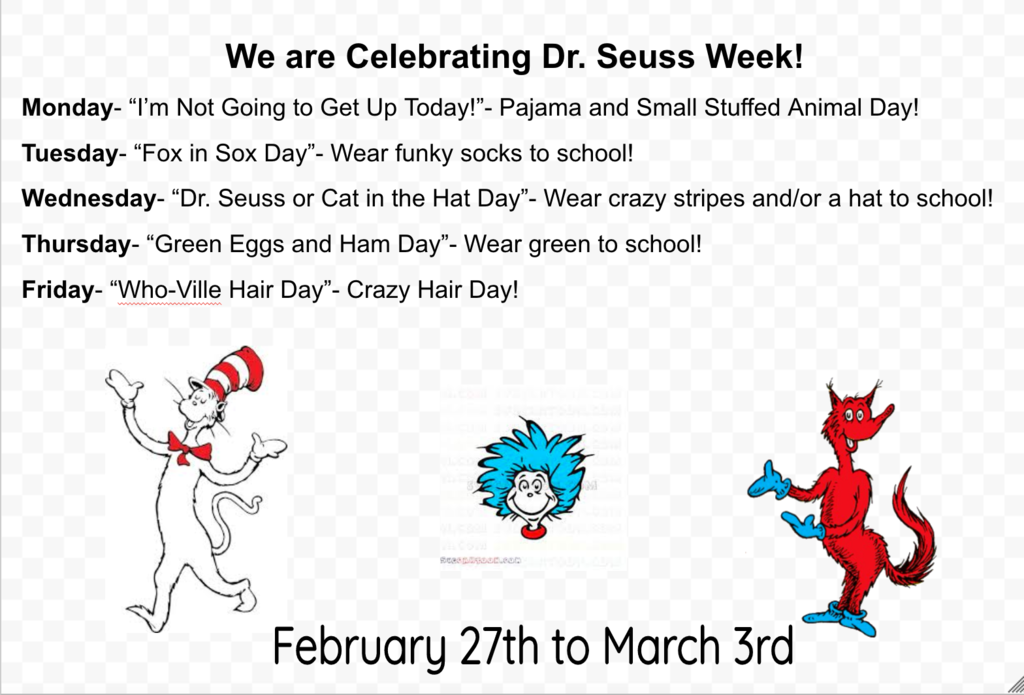 Families, This a reminder to send in your Habit #5 Seek First to Understand, Then be Understood Family Connections Sheets. We will announce students who completed and turned them in tomorrow at our assembly. Only one paper needs to be returned per family. If you lost your copy have your child stop in the office to get a new packet or you can print one by going to:
https://drive.google.com/file/d/1x_eXjJheDKOlRJZe0UtHEYf9wRdnfpcb/view?usp=sharing

The field trip to The Ohnward Fine Art Center scheduled for today has been moved to tomorrow at the same time.

Please note the lunch change for tomorrow. Breakfast will remain the same. Breakfast- Mini Chocolate Donuts Banana Juice Milk Lunch- Uncrustable Broccoli / Cauliflower Baked Chips Fruit Milk
The Andrew School will be closed tomorrow, February 23 due to the icy road conditions and the early out that was previously scheduled. Maquoketa and Bellevue Schools are currently planning on having a two hour delay so the Andrew shuttle buses will operate on the two hour delay schedule to transport middle school and high school students. Thank you.
The Andrew School will be closed today, February 22 due to the high potential for ice to cause hazardous road conditions.
Parents and Guardians. A reminder that LEAP is going to the YMCA tomorrow swimming. Please make sure your students have swimsuits and towels.